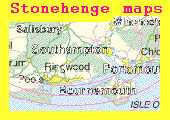 scosmaps.htm:
Stonehenge Ordnance Survey Maps

osouthgb.gif is South West Britain
ostone1.gif zooms in around Salisbury.
ostone2.gif zooms in around Amesbury,
ostone3.gif zooms in around Stonehenge.

osnunney.gif where I live, near Nunney, near Frome
Thanks for these webpages.

Image produced from the Ordnance Survey Get-a-map service.
Image reproduced with kind permission of Ordnance Survey and Multi Media Mapping.
---
see also: Megalith Map ,a useful website
---
return to Stonehenge Campaign
www.dicenews.com hotlinks
Thanks for these webpages.